Latest Advice - Coronavirus
*Update Friday 27th March 2020
Message for families of children in Reception, Year 1, Year 2 as well as those families entitled to Free School Meals .
Please click here for a letter about access to Free School Meals from next week.
*Update Sunday 22nd March 2020
Message for parents who are classed as 'Key Workers'.  
Please be aware that Government Guidance remains the same ...
SCHOOL IS CLOSED ONLY USE OUR EMERGENCY CHILDCARE AT SCHOOL, IF YOU HAVE TO - IT MUST BE A' LAST RESORT.'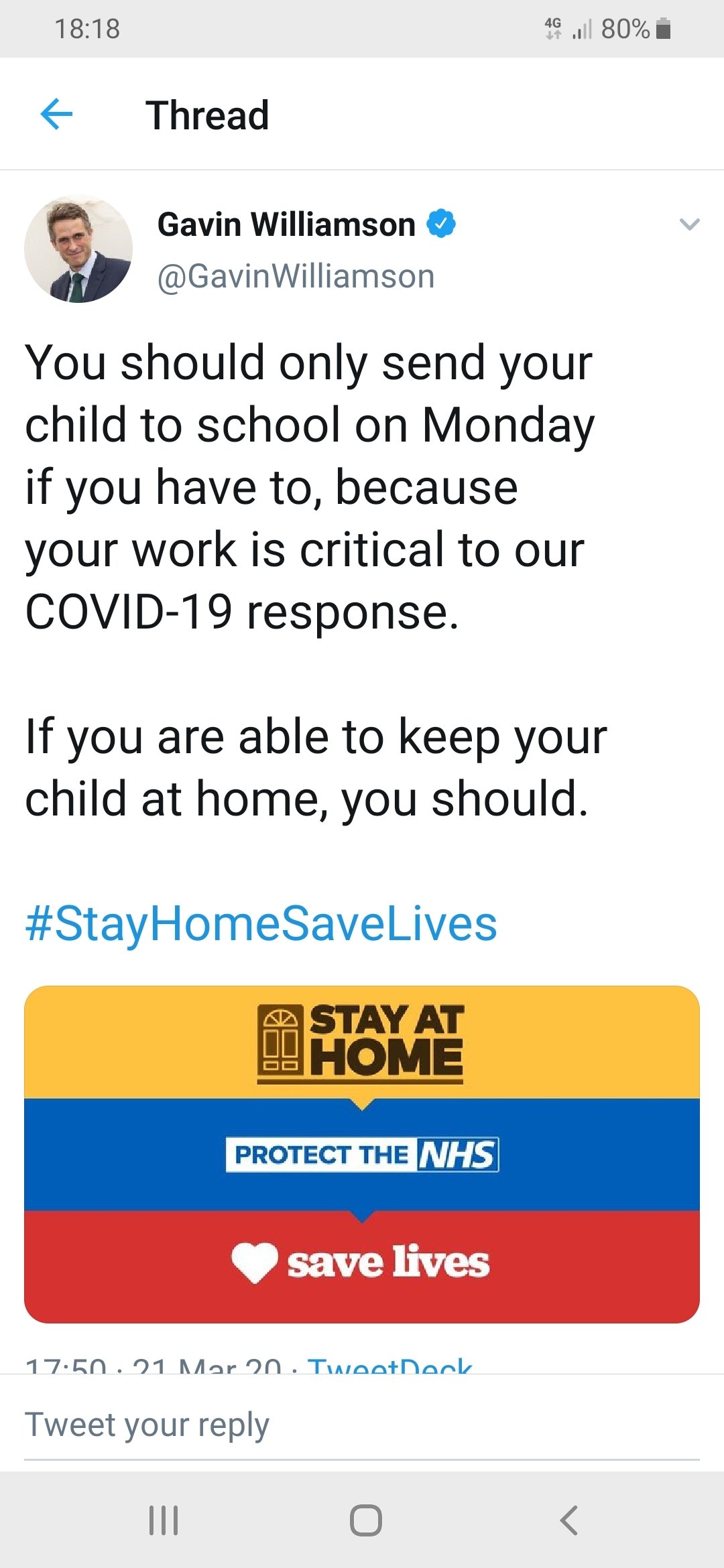 Even if you are a key worker,, please ask yourself...
Is there another parent/carer who is NOT a key worker?
Is there a family member (not under the vulnerable list) who can keep my child safe and support as they would at weekends?
If this is the case, DO NOT SEND YOUR CHILD TO SCHOOL.
The purpose of closing schools is to reduce the spread of the virus.:
Keeping you, your child and your family safe, as well as our staff, their children and their families too.
School is only open between
8.50am
and 3.15pm
to support children of
critical workers
The Government have asked that if workers think they fall within critical employment categories they should confirm with their employer that, based on their business continuity arrangements, their specific role is necessary for the continuation of an 'essential public service'.  
We will be asking parents/carers to provide that confirmation from their employer.  Most companies and organisations in those sectors are providing a letter to employees.  
If you believe that you work in one of the critical sectors listed in the document (link below) we ask you to provide us with evidence.  We understand you may not yet have this evidence.  However, we will insist upon it at some stage this week. We will provide a deadline in the coming days. Without such evidence, we will no longer be able to welcome your child into school.
You can
a) bring the evidence letter to school if you are dropping off your child of a morning
b) send the evidence letter n with your child
c) email the evidence letter to yewtree@knowsley.gov.uk stating your child's name, Year Group, the name of your employer and a phone number of the company you work for. 
Thank you for your assistance in this matter.
 ernment/publications/coronavirus-covid-19-maintaining-educational-provision/guidance-for-schools-colleges-and-local-authorities-on-maintaining-educational-provision
* Update Saturday 21st March
Click here for Information for families who whose child is in receipt of a free school meals.
*Update Thursday 19th March 2020
The first is that the Government has advised schools in England to close, except for certain groups of children, from this Friday afternoon (20th March) onwards as a further measure to prevent the spread of COVID-19. No date has been set for when schools will re-open for all children.
From Monday, the school will continue to be open for all the following groups of students only;
Children whose parents are frontline workers – the Government has initially said these will include NHS staff, police, supermarket delivery drivers, teachers and social workers. However others will be in this category and we expect to hear more from the government on this in the coming days.
Those classed as what the Secretary of State described as vulnerable children. These would be those who have a social worker and those with EHCPs
We will be in contact with families of children within the second category above, classed as vulnerable by the Secretary of State, by phone tomorrow.
For safeguarding purposes, we need to ask each family to complete the questions within the link below, so that we can identify those key workers who would need their children to come into school from Monday next week. These being NHS staff, police, supermarket delivery drivers, teachers and social workers.
Please click on the link below and complete the form before school starts tomorrow , Friday 20th March
https://forms.office.com/Pages/ResponsePage.aspx?id=hk1fE4thnEqFmfCMJ7T4cS-Ho9kW4mFPr5XikoHqxLNUM0Q3V0dUTEhHOVBFVEUxRlFEUUVEOEFRQS4u
We will continue to provide updates, as and when this becomes abvaiable to us.
Many thanks for your continued support!
*Updated Government Advice *
Please do call the school office to let us know.
Government are also advising those who are at increased risk of severe illness from coronavirus (COVID-19) to be particularly stringent in following social distancing measures.
This group includes those who are:
aged 70 or older (regardless of medical conditions)
under 70 with an underlying health condition listed below (ie anyone instructed to get a flu jab as an adult each year on medical grounds):
chronic (long-term) respiratory diseases, such as asthma, chronic obstructive pulmonary disease (COPD), emphysema or bronchitis
chronic heart disease, such as heart failure
chronic kidney disease
chronic liver disease, such as hepatitis
chronic neurological conditions, such as Parkinson's disease, motor neurone disease, multiple sclerosis (MS), a learning disability or cerebral palsy
diabetes
problems with your spleen – for example, sickle cell disease or if you have had your spleen removed
a weakened immune system as the result of conditions such as HIV and AIDS, or medicines such as steroid tablets or chemotherapy
being seriously overweight (a BMI of 40 or above)
Monday 16th March 2020- School remains open as usual today.
We wish to reassure our families that we will continue to follow advice and recommendations from Public Health England and the Government regarding COVID-19.
There are no plans,at the moment, to close all schools across the UK.
In the event of a temporary closure, it is our intention for all children to be able to continue with work at home. Currently, school staff are preparing work packs, projects and access to websites, which would allow for this, if this situation arises.
However, we are asking that you keep any children with a temperature or new, persistent cough off school for 7 days. If in doubt, please telephone 111 for advice or access NHS online https://www.nhs.uk/conditions/coronavirus-covid-19/ .
It is vital that you telephone school immediately to enable us to keep track of children who are 'self-isolating'.
In light of current events, and in the best interests of all of our children and families, we decided, as of last week, to postpone all school events eg Parent's meetings, Easter Asemblies etc
You can visit the following Government website for further advice and guidance:
https://www.gov.uk/government/topical-events/coronavirus-covid-19-uk-government-response
Please continue to check here on our website and Twitter feed @YewTreeCP for any further updates
Many thanks for your continued support.
Friday 13th March
Letter to Parents and Carers Friday 13th March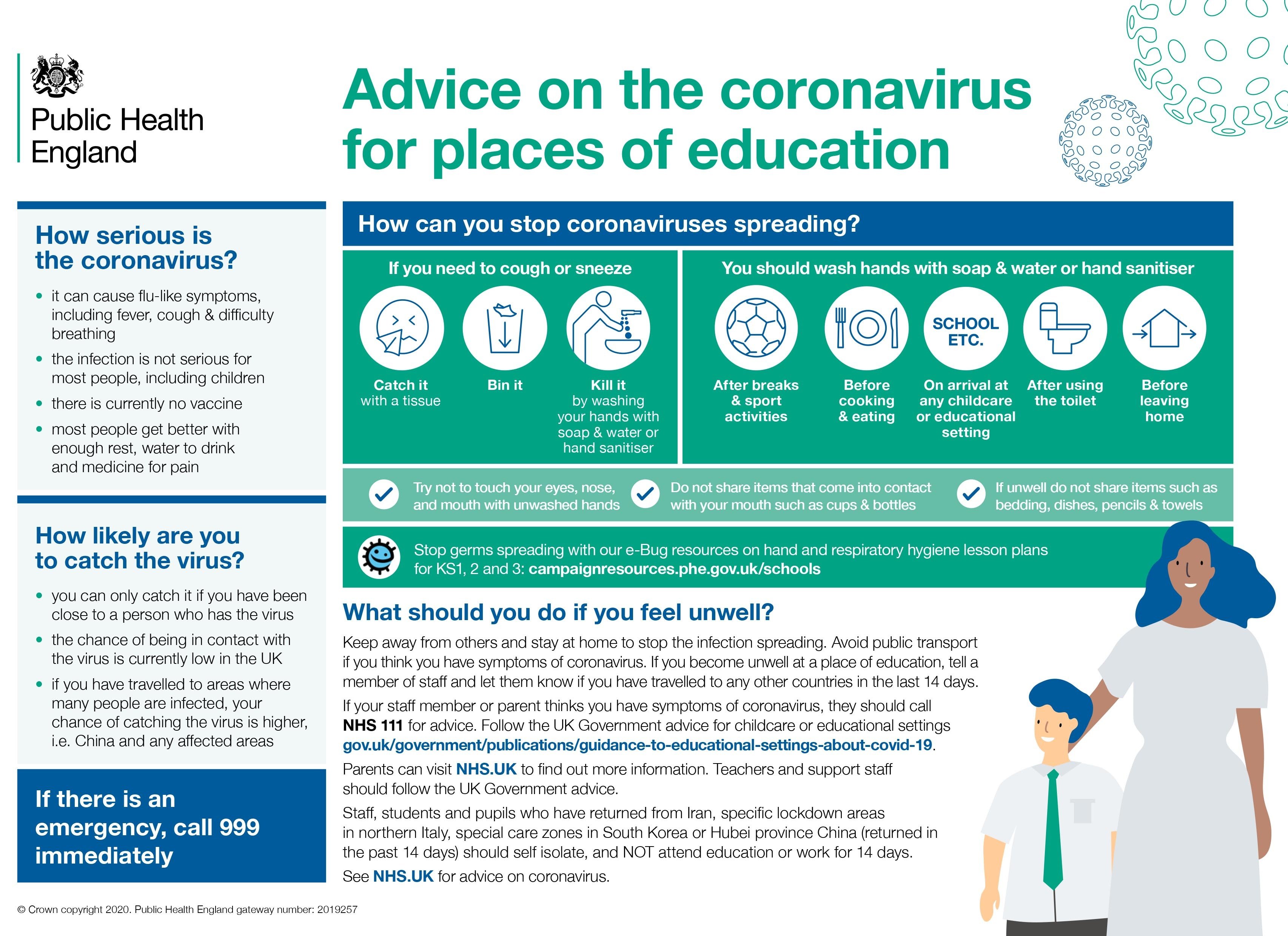 IQM Flagship School Award