Vision and Values
Our School Vision and Values
At Yew Tree Primary Academy, we strive to create a school community where children and adults DREAMBIG to achieve Excellence for All.
We are Determined
We are Resilient
We are Empowered
We are Adventurous
We are Motivated
We are Beautifully Behaved
We are Inclusive
We are Generous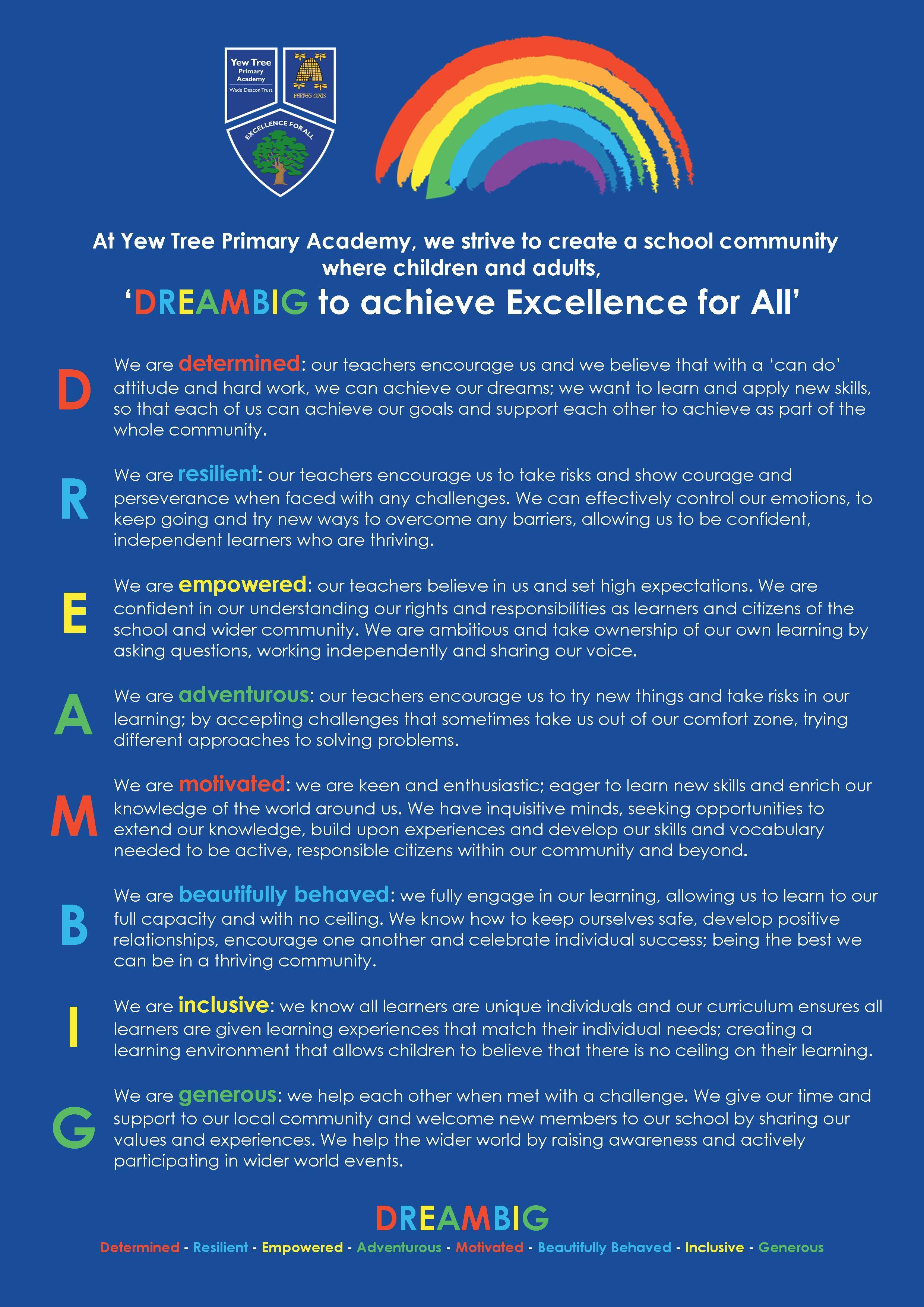 At Yew Tree it is our intention that our curriculum is balanced, provoking intellectual curiosity through building knowledge, extending opportunities to raise aspiration by having high expectations for all.
Our curriculum is designed to ensure all learners are confident and resilient life-long learners. Ensuring each child continually practises taking risks; learning from mistakes and persevering towards their most ambitious goals with the qualities of mind empowering them to face any challenge. Children achieving whatever they put their mind to is at the heart of their learning journey at our school and beyond.
We plan for outdoor learning, external visitors and enrichment trips to support and enhance our learning opportunities, to ensure that learning is always first hand where possible. In addition, we plan a wide-range of extra – curricular activities that we offer to our learners, including physical and creative opportunities outside of the curriculum.
Our curriculum has the National Curriculum at its core, takes into account current research and focuses on the development of reading, oracy, and a rich bank of vocabulary to open doors. This ensures learners have the cultural capital to confidently and competently take their place in society: developing critical thinking and the ability to express their own thoughts, feelings and ideas.
At Yew Tree we believe that children can achieve personal excellence through the teaching and modelling of our core values of determination, resilience, empowerment, adventure, motivation, being beautifully behaved, inclusive and generous, which drive all aspects of school life. We provide learners with their own learning toolkit through our vision to DREAM BIG for Excellence for All.
'The school is a member of the Wade Deacon Multi-Academy Trust, and this has allowed the school to continue to focus upon improving life chances for their pupils and their community, while also supporting sustainable school improvement. Despite this being an online review due to the ongoing pandemic, there is a palpable sense of a school that is highly successful and inclusive. Yew Tree represents everything that is best about inclusive practice. All staff led by the principal, and her senior team have an acute understanding of its context and a driving passion to support and have high aspiration for all their pupils and families in their local community.'
'In terms of inclusion Yew Tree Primary Academy is a superb school in the broadest possible sense. Inclusion, care, nurture, and support are at the heart of its approach and is naturally ingrained in every aspect of the school and its life. It is a setting that prides itself on providing the best for everyone who is involved and is, a vibrant, caring, and friendly place to attend as a pupil and as a member of staff within a superb learning environment. It is thriving hub of educational and inclusive excellence where every single member of staff is committed to the school and highly valued by the Principal, the Senior Leadership Team and each other. '
'Over time, they have built up strong relationships with families and this has resulted in a high degree of trust and honesty and a very good understanding of how the school can best support pupils and their families. The overwhelming feeling from parents, that is endorsed by evidence of this, and previous reviews, is that the school is a supportive family, and they appreciate the commitment of all staff.
The school`s actions to care for its pupils and its staff in my judgement continues to be superb.'
IQM Flagship Review Report June 2021
"The school and its staff continue to work very hard to give their pupils the best education possible and a superb level of pastoral care so that they learn well and are happy in school.
This is achieved through a superb commitment to providing the most inclusive of environments for all pupils and staff, encapsulated most recently by their adoption of a new vision that has built upon their previously excellent inclusive vision and the values that have come from this, where everyone in the school, pupils and staff, strive to create a school community where children and adults DREAMBIG to achieve Excellence for All'.
The values inherent in the school vision ensure that, pupils are: Determined, Resilient, Empowered. Adventurous, Motivated, Beautifully Behaved, Inclusive and Generous."
Assessor's Evaluation - IQM Flagship Report May 2020
DREAMBIG
Determined – Resilient – Empowered – Adventurous – Motivated - Beautifully Behaved – Inclusive - Generous